This revealing image is taken from a new book, 'Outside the Lines', which collects outtakes from album cover shoots of the late 70s and early 80s.
It shows how the disturbing cover of 1979's 'Lodger' album was achieved by David Bowie lying on a specially made metal support and being pressed beneath a pane of glass.
Bowie collaborated with British pop artist Derek Boshier on the cover design. The original gatefold album sleeve featured a full-length shot of Bowie by photographer Brian Duffy as an accident victim, heavily made up with an apparently broken nose.
For effect, the image was deliberately of low resolution, taken with a Polaroid SX-70 type camera. The inside of the gatefold included pictures of Che Guevara's corpse, Mantegna's Lamentation over the Dead Christ, and Bowie being readied for the cover photo. These images were not reproduced in the Rykodisc CD reissue in 1991.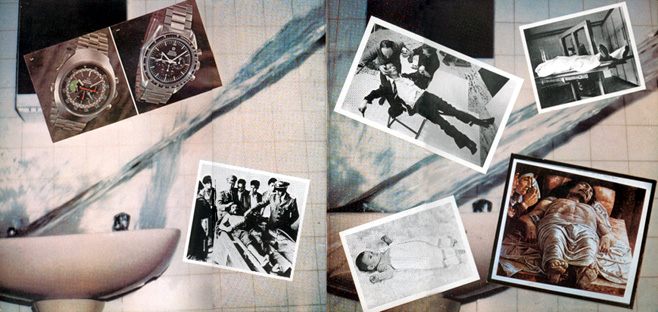 Derek Boshier expands on the story. "The cover for "Lodger" was a collaboration between David, the photographer Duffy, and myself. I loved the resolution to the problem of David being photographed falling. Shooting him from above, on a specially made table built to match the falling form. The table was designed to be completely obscured by David's body. The wash hand basin was laid underneath the table on the floor."
Outside the Lines by Matteo Torcinovich is published by Octopus Books at £15. To order a copy for £12, including free p&p, call 0330 333 6846 or go to bookshop.theguardian.com. Click here to order it for £12.